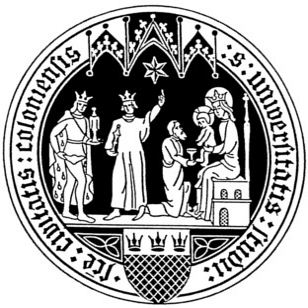 Bianka-Isabell Scharmann, M.A.
Academic Staff
Phone: tba.
Email: b.scharmann(at)uni-koeln.de
Office Hours:
By appointment via e-mail
Summer Term: thursdays from 4-5 pm by appointment via e-mail
Selected publications:
Main research topics:
Theory, History of Knowledge & Aesthetics of Film (esp. Early Cinema, Costume, Fashion & Textiles)
Media Theory & Aesthetics, esp. Phenomenology
Techno-Aesthetics of (contemporary/modern) Art
---
Curriculum Vitae
Seit 2020: Wissenschaftliche Mitarbeiterin an der Schnittstellenprofessur für Kunst- und Mediengeschichte der Bildmedien, Universität zu Köln
Seit 2020: Doktorandin an der Amsterdam School for Cultural Analysis (ASCA), Universität Amsterdam
Seit 2018: Selbstständigkeit als Redakteurin, Filmkritikerin und Autorin, u.a. für Kino- Zeit.de, ZEIT Online & als Kunst- und Kulturvermittlerin für Deutsches Filminstitut Filmmuseum Frankfurt (DFF) und Museum Angewandte Kunst Frankfurt
2015-2019: Studium der Theater-, Film- und Medienwissenschaft an der Goethe Universität Frankfurt, Abschluss: Master of Arts
2018-2019: Freie Mitarbeiterin im Forschungsprojekt "Kleidung in Bewegung" am Historischen Museum Frankfurt in Kooperation mit der Universität Paderborn
2018: Erasmusstudium am Institut für Kultur und Ästhetik an der Universität Stockholm, Schwerpunkte: Kunstgeschichte, Wissenschaftsgeschichte, Medienarchäologie
2015-2018: Assistentin der Institutssekretärin am Institut für Theater-, Film- und Medienwissenschaft (2015 – 2017); Studentische Hilfskraft an der Professur für Filmwissenschaft von Prof. Dr. Vinzenz Hediger (2015–2018); Tutorin für Medienwissenschaft (2017–2018); Studentische Hilfskraft an der Jr.-Prof. für Filmkultur Jr-Prof. Dr. Sonia Campanini (2017)
2011-2015: Bachelor of Arts in Theater-, Film- und Medienwissenschaft & Kunstgeschichte, Goethe-Universität Frankfurt am Main
Mitgliedschaften
Network of European Cinema and Media Studies (NECS)
Gesellschaft für Medienwissenschaft e.V. (GfM)
Domitor – The International Society for the Study of Early Cinema
netzwerk mode textile / network fashion textile (nmt)
Research School for Media Studies (RMeS)
Stipendien
07/2020-09/2020: Arbeitsstipendium der Hessischen Kulturstiftung
10/2015-09/2016: Deutschlandstipendium der Goethe-Universität
---
Forschung
Forschungsthemen
Theorie, Wissensgeschichte & Ästhetik des Films (insb. Frühes Kino & Kostüm)
Medialität des Textilen
(Film)Phänomenologie
Medientheorie & -ästhetik
Gender und Queer Studies
Forschungsprojekt
"A Play of Light and Cloth: Textile, Materiality and Film" (Arbeitstitel), Dissertationsprojekt, seit 07/2020

In my PhD project, I theorize the relationship of textiles and film in Modernity and am especially interested in questions of materiality and mediality. Textiles did not only appear in the image – e.g. costumes, fashion, moving fabrics – but were also part of the production process as filters or appeared as technologies of screening, veiling or dissolving. Lastly, I am interested in questions of epistemology, meaning in the forms of sensorial and corporeal knowledge that have been produced by the different configurations.

Supervisors: Dr. Marie-Aude Baronian (University of Amsterdam); Jr.-Prof. Dr. Kristina Köhler (Universität zu Köln)
Weitere Projekte
"Stoffe in Bewegung. Medialität und Materialität des Textilen in den Film- und Medienkulturen des frühen 20. Jahrhunderts"

Interdisziplinäre Tagung am Institut für Medienkultur und Theater & am Kunsthistorischen Institut der Universität zu Köln, 31.05 – 02.06.2022

Organisiert durch den Lehrstuhl für Kunst- und Mediengeschichte der Bildmedien:
Junior-Professorin Dr. Kristina Köhler, M.A. Bianka-Isabell Scharmann und M.A. Pia Bornus

Die Tagung nimmt bewegte Textilien in der Film- und Mediengeschichte des frühen 20. Jahrhunderts in den Blick und fragt nach deren medialen und ästhetischen, materiellen, ökonomischen und sozialen Konstellationen. Ausgangsthese ist, dass Stoffe um 1900 auf neuartige Weise «in Bewegung» geraten. Dies zeigt sich nicht nur an der Ausgestaltung der damaligen Mode – der zunehmenden Tendenz zu dynamischen Schnittführungen und der verstärkten Verarbeitung leicht-fließender Materialien, sondern auch in den Medien und ästhetischen Programmen der Zeit, die die Bewegtheit von Stoffen ostentativ ausstellen.
---
Publikationen & Vorträge
Sammelbände
Meusch, Adriane / Scharmann, Bianka-Isabell (Hg.). 2020. Think Film! On Current Practices and Challenges in Film Culture: A Documentation of a Student Symposium. Open Access [DOI: 10.5281/zenodo.3662800].
Artikel
Rezensionen & Tagungsberichte
Scharmann, Bianka-Isabell. 2020. "(Ad)Dressing Film History: Film and Fashion Amidst the Ruins of Berlin / Fashion, Film and the 1960s." NECSUS, #Intelligence.
Scharmann, Bianka-Isabell. 2020. "Rossella Catanese, Francesca Scotto Lavina, Valentina Valente (eds.): From Sensation to Synaesthesia in Film and New Media." MEDIENwissenschaft: Rezensionen / Reviews 37 (1): 32-3.
Scharmann, Bianka-Isabell. 2018. "Neapolitanische Echos: Elvira Notari." ZfM (Zeitschrift für Medienwissenschaft).
Scharmann, Bianka-Isabell. 2017. "Nischen, Szenen, Praktiken. Neue Literatur zur Medialität der Mode." ZfM (Zeitschrift für Medienwissenschaft) 17 (2): 201-8.
Vorträge
Setting Dress in Motion: The Aesthetics of Transition of Costume Through the Ages, Vortrag im Rahmen der NECS Konferenz Palermo, online, 06/2021.
A Textile Touch: Discovering Film Histories Gauzy Images, Vortrag im Rahmen des ASCA Theory Seminar "Urgent Matters", 05/2021.
Von der Antike zum modernen Kostüm: Zu Mode-als-Bewegtbild als kinematrographischem Erfahrungsmodus, Vortrag im Rahmen der »Kleidung in Bewegung Konferenz«, Freiburg, 09/2020 .
The many layers of The Hunger Games: Catching Fire – On the (Identity) Politics of Dress, Vortrag im Rahmen der Jahrestagung der GFF »Speculative Fiction and the Political«, 09/2020 [Konferenz abgesagt].
Reconstituting Poses, Experiencing Intermittent Paintings: (Ad)dressing (Intimate) Encounters with Kostas Murkudis' Panel Dresses, Vortrag im Rahmen des »On-line 'taster' seminar: Public Textiles and Dress«, CHORD, 07/2020.
A Montage of Striking Poses: On (Literary) Moving Images in Edith Wharton's The House of Mirth, Vortrag im Rahmen der »The Literary Image and the Screen International Conference«, Genoa, 09/2019.
A Film About Fashion Against Its Intention, Vortrag im Rahen der Jahrestagung der PCA/ACA, San Diego, 04/2017.
Mode, Kleidung, Fashion? – Zum Begriff des 'Kostüms' im Film, Vortrag im Rahmen der ersten Studentische Konferenz am Institut für Theater-, Film- und Medienwissenschaft, Goethe-Universität, 07/2015.
Podiumsdiskussionen & Einladungen
08/2021: Moderation eines Podiumsgesprächs mit Regisseur Javier Olivera im Rahmen der Summer School "Nacer allá, vivir aquí. Escritores latinoamericanes en Alemania y España
12/2020: Gast-Jurorin im Seminar "Undressing Cinema", Dr. Marie-Aude Baronian, Universität Amsterdam
08/2017: Gast beim Round Table während "Internationale Stummfilmtage", Bonn – Diskussion von Fragen der Filmkultur, Präservation und Kommunikation.
07/2017: Moderatorin, "Round Table: The State of Filmculture – Between Practice and Theory", ThinkFilM! A Student Symposium on Communicating Film in the 21. Century.
10/2016: "Was sind MMORPG's?", Präsentation in der Serie "Verspielter Abend", Institut für Theater-, Film- und Medienwissenschaft, Goethe-Universität Frankfurt.
01/2016: Da hong deng long gao gao gua (Raise the Red Lantern, Yimou Zhang, 1991) – Einführung des Films während der Filmverführung TFM.
---
Lehre
Sommersemester 2021 (Universität zu Köln)
"Wenn Kleider Leute machen, dann machen Kostüme gewiss Schauspieler" - Kostüme, Kleider, Texturen im Film

Sommersemester 2021 (Universität zu Köln):
Körper, Wahrnehmung, Materialitäten: Lektüre-Seminar zur Phänomenologie
Wintersemester 2017/2018 (Goethe-Universität Frankfurt)
TU Einführung in die Theater-, Film- und Medienwissenschaft, Seminarbegleitendes BA-Tutorium in Theater-, Film- und Medienwissenschaft
Sommersemester 2017 (Goethe-Universität Frankfurt)
TU Medienanalyse, Seminarbegleitendes BA-Tutorium in Medienwissenschaft
---